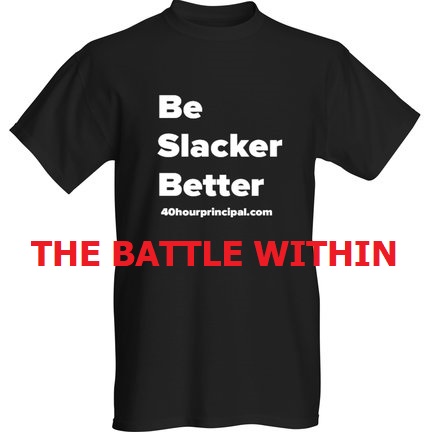 English is a notoriously tricky language to navigate. Take a look at this classic sentence describing a panda to see that simple nuances and grammar can dramatically alter the meaning of what you're trying to say.
A Panda eats, shoots, and leaves
or
A Panda eats shoots, and leaves. (It's also available in joke form.¹)
It's a bit the same with our Forty Hour Project catch phrase –
"Be Slacker Better".
We mean one thing with Be Slacker Better, but it's a totally different take on "Be a Better Slacker".
When I wear my Be Slacker Better tee shirt, most people I know laugh and say something like; "Yup, I'm with you! I'd love to spend my time lying around on the couch watching Netflix and drinking beer." I daren't wear my tee at school in case I'm accused of being the biggest slacker around and an affront to the whole educational community. A principal can't be a slack arse, let alone go around promoting it!
Of course, lying on the couch watching Netflix and drinking beer (being a better slacker) is something I often aspire to, sometimes even in my professional life (!) but it's not something that I am actively encouraging.
I'll use a small example to help show the difference. No doubt you've all had similar experiences in your roles. Our principal and leadership roles are full of such events, so this experience won't be new to you I'm sure.
. . .
Recently I found myself attempting to manage a series of unfortunate events during the end of a lunchtime, all bang, one after the other. I was out in the playground watching some 8 year olds tear around the field playing football. Suddenly I heard a commotion and I had a swarm of kids around me yelling, "Mr Zee, Mr Zee, you've got to come quick, it's real bad, there's lots of blood".
Over on the adventure playground I found a five year old who had simply forgotten to duck as he ran around and had split his forehead open in a collision with a playground bar. The kids were right – there was blood everywhere. The boy lay on the ground with a nasty gash open for all to see. I made the decision to move him and so picked him up and made for the sick bay.
Around about the same time, a fight was beginning between some of our 13 year olds and 10 year olds. They'd been sharing a game of soccer and a purposeful foot-trip by one of the younger boys was now being dealt with in an over the top sort of way. A teacher was trying to sort the problem out, but the bell to return to class was about to go and she needed to get to class.
At the same time, our current class runner/skipper had decided he wasn't going to go back to class and he was more interested in playing "catch me if you can" with any adult who was trying to get him back into class.
In my arms lay a five year old boy bleeding all over my coat and leaving a nice trail on the concrete. I took him into the sickbay and chose to stay with him because he was really upset.
"Steve, I've got four boys out here needing to see you – they've just been in a fight."
"Mr Zee, Brian has headed off out into the field and he won't come back – can you get him back into class."
Sure I said. I'll console the bleeding and upset boy, he needs me right now!
Sure I said, I'll sort out those four boys from the fight!
Sure I said, I'll chase after Brian and get him back to the classroom, he'll be back before you know it!
Sure, I'll do it!
This really wasn't going to end that well.
. . .
Mark Mason in his book, "Everything is F*#ked – a book of hope", argues that our brains are wired by two parts; an emotional feeling side, and a thinking/self-control side.
Ultimately it's our emotional side that stokes the fire for us to do anything. Without emotions driving us there's simply nothing for the self-control side to, well to put it simply, control. There are plenty of documented stories of people who have brain injuries or surgeries and who have lost their ability to have feelings and as a direct result have also lost their purpose in life.
So it's not surprising that when I was confronted first with a lot of blood and then another couple of behavioural issues to decipher, that it was my feeling side that began making the decisions first.
Mark Manson likens this to a Clown driving a Consciousness Car. He argues that our feeling brain drives our consciousness, and in the seat beside it sits our Thinking and Self-control. However, the feeling side has control of the driving wheel, the accelerator and the brakes. And, just like a teenager, the feeling side doesn't like being told what to do, and so the thinking side of your consciousness is always trying to play catch up.
Not surprisingly my feeling side led from the front. Self-control only kicks in when there's something to provoke it, so it was my feeling side that said, "Sure, I'll do that, and sure, I'll sort that, and sure I'll chase after Brian."
And because my feeling side doesn't like to be told what to do, my self-control side tried to reason to start with. It said; "The other adults around are all busy people taking their classes and you don't want to pull them from their core job", and "You're the principal and your core role is to look after people", and "Your job is to sort out the behaviors (and don't forget to sort them out good and proper!), and "If you aren't being seen to do this then maybe you'll be considered an imposter", and "Maybe you're cutting out the middleman by just doing it all, cos it'll end up on your plate in the long term anyway" and … well, you get the picture. The easiest thing was to just do it … do it all. Which, simply put, wasn't the best thing to do.
So after a while of consoling the bleeding child and making sure that he was in good hands with the school first aider (which of course he was from the moment I stepped into the sick bay), I headed out to sort out the fight with the four boys. "Don't forget Brian" my thinking side reasoned, "he's out there somewhere and needs to be back in class".
Next day I got a phone call from a very disgruntled parent. She was very upset about how I had dealt with the fight. Her young boy had been punched in the eye by an older boy and it appeared that there were no consequences, and if there were then they were all weak ones. And…… what the hell was I going to do about it! No doubt you've had similar types of phone calls. It always astounds me how someone else's bad behaviour gets turned into your bad behaviour.
It made for an uncomfortable realisation that Being Slacker Better would have been the far better option.
Sure, at the end of the day, I did cope, and all three events were "sorted". Some were sorted better than others. However all could've been sorted much better if I'd simply been slacker with myself and directed people around me to step up. The fact that someone said "Steve's got it sorted" added to the tension that I couldn't be slack.
But in whose' mind was I really being slack in? Somewhere in my subconscious is an incredibly unfair feeling that if I hadn't done what I did, then I would've been slack.
Just because I thought it doesn't mean it was so though. Not all of our thoughts are correct.
. . .
As principals, we do this frequently. We rely on our emotions to drive the choices that we make. That's what humans do. It's not in our job descriptions, or performance management reports, or policies and procedures that really drive what we do. When was the last time you even read your Job Description? No, it's our emotions. It's our feelings. They start the ball rolling, and they provide motivation for us to actually do something. So if you also have a feeling that because you're The Principal, that you need to do everything, or else you're slack, then you have a problem. I imagine we all have this from time to time.
The difficulty is that our emotions/feelings don't have a rudder when determining the best way to go. And essentially, they love to undermine self-confidence if they consider you're being slack or if they think that someone else will think you're being slack.
This is counter productive to your own well-being which somewhat ironically, puts you in an even more vulnerable position.
Being Slacker Better means looking for better options, even though your immediate gut feelings might be to do it all yourself. It would've been way better for me to delegate responsibility to another adult for any one of the three things that I was trying to do all at once.
I would've been better to triage the situations a bit like they do in the Emergency Department of a hospital. Are the doctors and nurses of those departments slack because they make decisions about what, and who they're going to see first? I don't think so.
So what are the key takeaways when Being Slacker Better?
Understand that it's your emotions and feelings that get you moving. They are your drivers and what ultimately motivates you. This is key to understanding that your motivations might not always be the

best

thing to do even though you

feel

they are.

Give yourself some time

before

embarking on a big challenge.

Go easy on yourself. You are your biggest critic. Have high standards, sure, but keep them in check with what is actually required.

Don't be overly proud in an arrogant way. I always wondered if this was a great example of the old adage "Pride comes before a fall". You are not the only one who can "get this sorted".

Understand that your role as a Principal/Leader is better suited as

not

being responsible for the job, but being responsible

for the people

who are responsible for the job. This is very important.

Give yourself some time

after

embarking on a big challenge.

Indian Educationalist,

Saif Sarwari

,

has a great saying; "Sincere principals don't count the number of hours they put in … they count how much they put into those hours … and that makes all the difference – give yourself some slack, your performance should be measured in the difference you make, not the number of hours you work.

Celebrate a job well done – irrespective of who has done the job.

Feel comfortable to delegate. Believe in the people around you and show trust in their ability to get the mahi done. This builds leadership capability and ultimately means you can Be Slacker Better even more often!

Don't dwell and don't beat yourself up if things don't quite go as planned. Yes I had an angry parent, but this time next week, or next month, or next year it won't really matter.

Consider formulating an alternative plan that could be used in challenging situations when you are inundated – write it up, record the key people that you want to delegate to. Talk to them about how you'll communicate with them and how they'll know they need to step up. Part of this plan is knowing what your

priorities are as a leader

.
. . .
My little situation turned out just fine. It was ok. Everyone was ok. Everything was ok. It could've been better – but I got the key elements right. The point is, if I'd been a little bit slacker things would've been better.
The following day the little boy who split his forehead open on the metal pole came in with his three stitches and this card. And it was then that I knew I got the most important part just right!
Mr Zee and the lady, Thank you
Steve
¹ A panda walks into a bar and orders a sandwich. The waiter brings him the sandwich. The panda eats it, pulls out a pistol, kills the waiter, and gets up and starts to walk out.
The bartender yells for him to stop and says, "You come in here, order food, kill my waiter, then try to go without paying for your food. Who do you think you are?"
The panda turns around and says, "Hey! I'm a Panda. Look it up!" The bartender grabs his phone and googles "panda" which reads:
"Panda: a bear-like marsupial originating in Asian regions. Known largely for it's stark black and white coloring. Eats shoots and leaves."