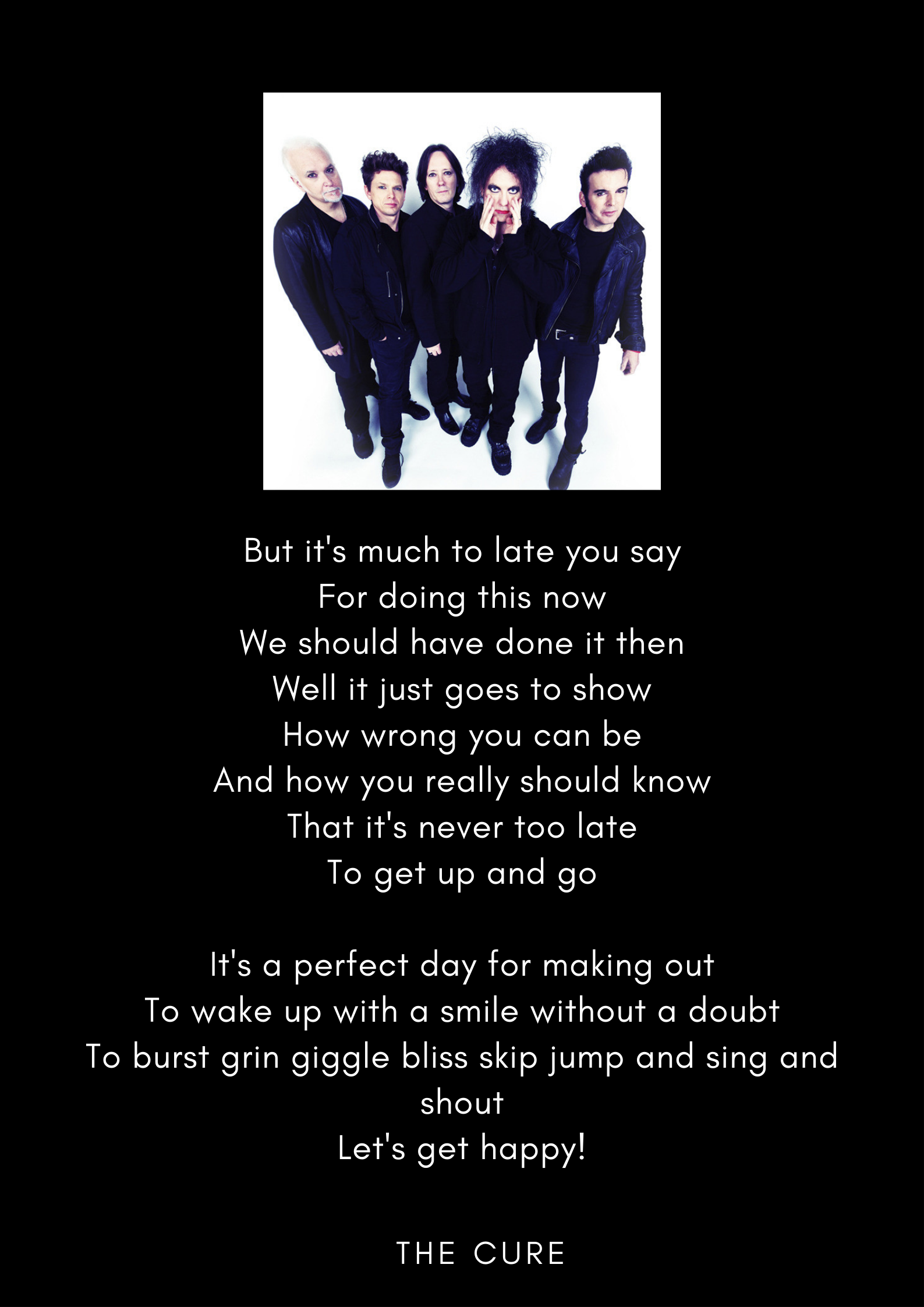 .
Today we have a guest post from Danny Nicholls of Te Matauru School in Canterbury. Some of you might know him for the awesome mahi he does helping administer the NZ Principals' Facebook page. This week Danny is offering up some very inciteful and timely suggestions for how to move past the present inertia that is gripping many of us. (If you would rather listen to this post, jump to the end and hit the link.)
"What can you do today to shift from reaction mode to action mode?"
If you're of a similar vintage to me, you'll be aware of The Cure. Your impression might be of a very dour goth band, and yes there's some of that, but for a band whose biggest hit is called "Friday I'm in Love", there's more than one shade to their songwriting palette.
Stick with me here.
Our current circumstances as Principals – managing our way through Red level, assimilating SPOC and CTUT and other four letter words into our vocabulary, basing our professional decision making around our next Zoom, or the latest Facebook share from another Principal – is leading us away from empowered decision making and context based leadership, into reliance, dependency and a waiting game, as we scour the stats and opinions to try and decide what we should do next for our communities.
We're getting stuck in it too.
I'm like you – I read the Facebook and Twitter posts, I parse through Iona's bulletin at a time of day that I should be practicing football skills with my daughter (which is her SMART goal this term – well done to her school for giving their children something personal to focus on at the moment rather than worry about the global situation!), I read and think and overthink and uberthink and read and think, and then I plan and I plan… and then I adapt my plan and tweak it again and again… and then I hope that I am giving my community and staff the right advice…and then I repeat it all the next day.
Talking with a couple of Principal colleagues recently, we reflected that the independence, innovation and creativity touchstones of Kiwi school leadership (remember that doc?) might be getting squeezed out at the moment. Leaders who have built up systems over many years are now having to throw them out and become more flexible and vulnerable than ever. It's hard for any of us to change, and it's hard not to feel in control of everything. As leaders we are in the deep waters, and while some of us are waving to the shore, some might be drowning.
Anecdotally these patterns that are developing seem to be enabling a lack of confidence and action from us as leaders. We are waiting for others to tell us what to do, or to adapt a template that someone else designs for us, rather than thinking for ourselves. (PS – nothing wrong with sharing – that's in our DNA – it's dependency that's a worry)
We are getting stuck.
The loudest voices on social media are becoming our yardstick for what we "should be doing", and scaremongering about what might happen tomorrow, and why someone else is to blame for it. We find ourselves taking advice and direction from people we've never met simply because they are the most vocal or have the most edgy perspective. We worry that we don't have the most up to date information, and then when it arrives, we rush with questions, rather than taking the time to read and reflect. We are reducing our kanohi ki te kanohi with our most trusted colleagues and voices in the interests of physical health, possibly at the cost of mental health. We are hunkering down, hoping our plans and spreadsheets are the magic fix, and that this will pass.
Planning is no substitute for action. A plan without action is a waste of time. And a lack of action is leaving us feeling tired, overwhelmed, stuck and powerless.
Back to The Cure.
On the same album as that Friday song, there's another tune that us older folk would call a "deep cut", called, Doing the Unstuck. It talks about shifting our mental model from paralysis to action – the importance of getting up out of our comfy desk chairs and doing something, anything – and to appreciate the positives that we do have, and the power to change our circumstances. So taking a cue from the song – let's think about what we can control and do to get us unstuck.
– We all know the best anecdote from mind numbing spreadsheets and bulletins is getting out into our schools and spending time with our littlest people. I'm limiting my classroom contact at the moment, but I'm trying very hard to be out in the playground during breaks and spending time with our children – laughing with them, answering their questions both big and small, and showing an interest in them. It reassures them that things are OK in our corner of the world. It reassures me too.
– It already seems like a very long time ago, but do you remember your new year's resolutions? Gretchen Rubin (check out her Four Tendencies book if you haven't already – seemingly designed to unlock those staffroom culture elephants!) – recently posted about the concept of a Determination Day – a reset, a chance to start over, to find again the resolve you had on January 1st. We need now more than ever to take that walk, to log off Twitter for the night, to spend time talking with people, and to experience those personal wins.
– Manage your time and your commitments. You don't have to attend every Zoom. You don't need to know the opinion of a Principal who is posting all the time on Facebook. Your community will forgive you getting your comms out later than the school down the road if they know you are busy caring for their children and keeping them safe. Because really – that's our number one job at the moment.
– Connect empathetically. Check in on your Principal colleagues that are quiet at the moment – you might be the only person doing so, and they might really need it. Do the same for the adults in your school community.
– Connect strategically. Iron sharpens iron – who are the colleagues you need to connect with who will lift you up? Who makes you feel better after you talk with them? You need to talk to them now. Give them a call. You don't need a reason.
– Put down the device. We aren't made to sit in front of a screen all day. We need fresh air, communication and connection. Make it a daily non-negotiable. Go for a walk by yourself or with a friend. Listen to a podcast, do some baking or turn up the stereo and sing along – whatever fills your bucket.
– And finally, a time management recommendation – read Oliver Burkeman. Four Thousand Weeks is a very different take on time management, but it will resonate with you for a long time. His latest post is worth reading also and not a million miles away from the thrust of this post right here.
You could even listen to The Cure (or not). But you might need to Do the Unstuck.
What can you do today to shift from reacting mode to action mode?
Danny