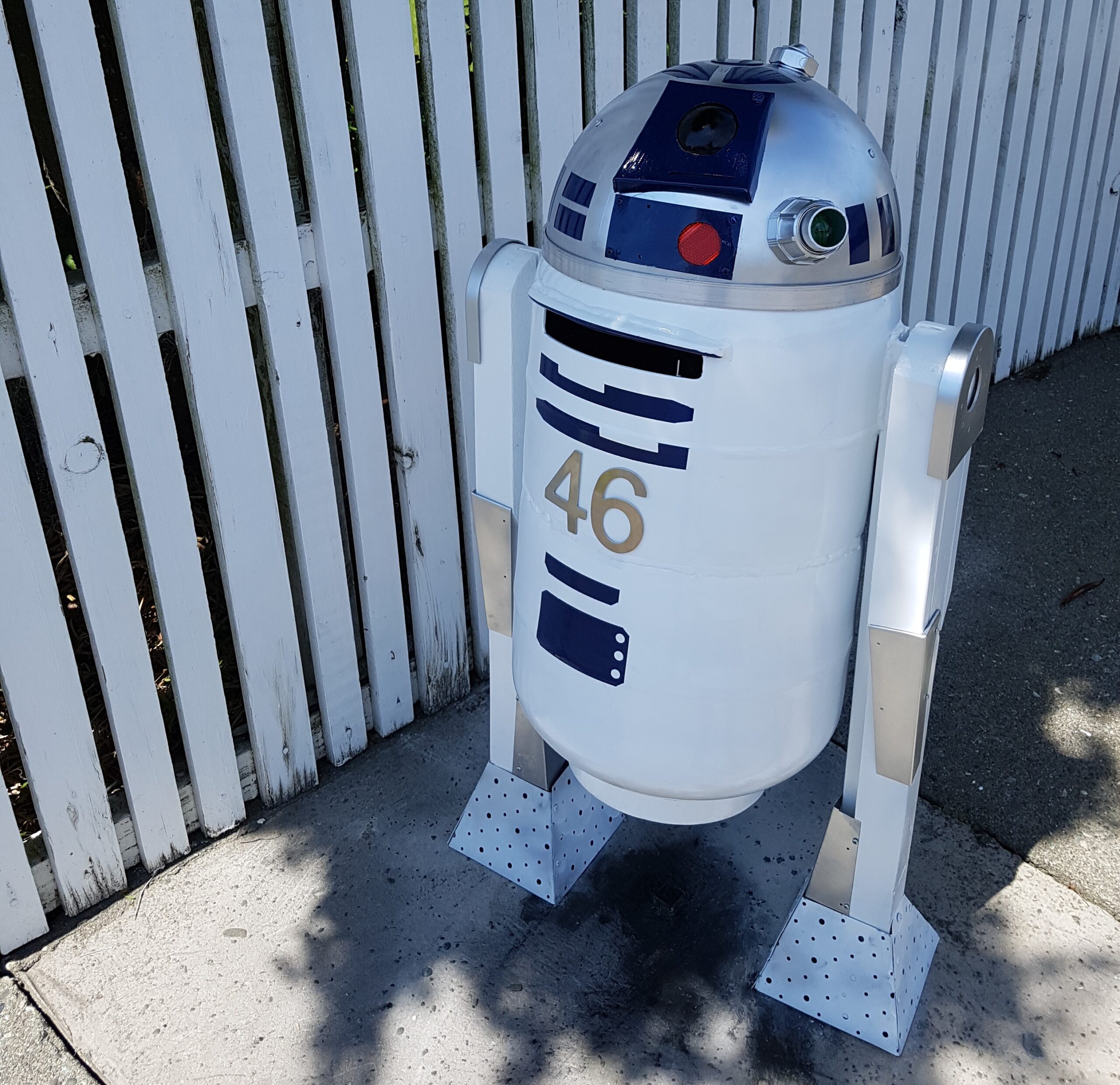 .
Last week someone stole my mailbox.
I was driving out the gate on my way to work last Friday and a part of my brain slowly registered something was wrong – my mailbox was gone! It's the weirdest feeling to suddenly realise a familiar feature of your world has inexplicitly changed. And right behind that confusion came a rush of anger – how dare someone do this! I was smoking hot angry. I sat in my car and said short inappropriate words – loudly.
At this point I need to explain that the mailbox in question was a bit special. I'd shifted house a couple of years earlier and the existing mailbox was a sad and rusty version of what it must have been 30 years earlier. It was junk.
In a moment of new house enthusiasm, I told the kids that we were going to do better, that we could build something fun and creative. (A rookie mistake that casual promise.)
The ideas team let their imaginations run wild unsullied by any concern for practical realities, and after plenty of discussion, settled on making a Star Wars star – R2D2 to be exact. My weak suggestions that a minion or a cat might be better, were brushed aside, and without a plan, the project started.
If you follow the Star Wars films you will know that an R2 is a lovable but complicated little robot/droid thing and that making it ready for the local postie to stuff mail into it, took some work.
To cut a long story short, the droid was created. This was a team effort by the family and a lot of fun. He was duly installed at the end of our driveway to carry out his mission which he did faithfully for over two years. The neighbourhood walkers all knew him and hundreds of little fingers pressed the various buttons to see what would happen.
But this morning, he was gone and the evidence was that he had been brutally abducted. We'd considered the possibility that someone might think it funny to move him and had gone medieval on his attachments. He was anchor bolted into the concrete path and the bolts had been welded on. Bulletproof. Unless someone brings power tools in the middle of the night and hacks his feet off.
. . .
As leaders, we all have situations like this – life intruding into the plan for the day – sometimes a little better, sometimes a lot worse, and they take our thinking away from school. This is OK – it's what makes us human and this particular Friday morning I was not focused on school!
After I'd made the police report I spent the next two hours pushing out an SOS on social and local media. And it went viral. It got shared so widely that people I've never met in countries far away, contacted me to express their sympathy and to offer suggestions for retrieval. There was a collective feeling of outrage that someone had thought it OK to take him and when the local paper did a short article showing the kids looking sadly at the empty space, it just ramped up.
Eventually, a few cryptic messages started floating in. People connected to the thieves wanted to help, but they also deeply didn't want to be directly involved. No one wanted to be seen as a "nark".
Over a couple of days the pieces of the puzzle starting fitting together and when it was clear who had been involved, we got our R2 back.
He's currently waiting for me to fire up the welder and get some paint to repair him, and when finished (probably in the holidays now), he's going back to the end of the drive. Which brings me to the point of this post – why did the four young guys who took him do it? How could they think it was OK to vandalise and steal someone else's property?
I'll probably never know the real answers to those questions. These 19 year olds are all either in jobs or training courses (yes, I know where they live!). They come from middle class families and as best I can determine went through both primary and secondary schools in reasonable shape. But they're missing some things. And their missing bits are really important.
As things calmed down, I began to wonder if there was something to think about or learn from a school perspective. In the many school reports that these young men shared with their parents over the years, did any of them mention a lack of conscience? A sense of entitlement or arrogance? A willingness to ignore others' rights? They would definitely have talked about maths and reading, about taking part in sports or cultural events, what their next steps in writing were . . .
I can't help thinking that it is very easy for major flaws to slip through our schools unchallenged. Don't get me wrong, I'm not blaming a school or a teacher for what these people chose to do, rather their actions highlight huge personal gaps in the key competency of being a decent human.
Our system demands that we focus on academic progress, that we teach, measure, and report on a fairly narrow range of skills. Considering what these young men are doing in their day jobs now, after their 13 years of schooling, it's reasonable to imagine that they are competent at the things that schools traditionally focus on.
But the things that mattered greatly to my family and neighbours last Friday night were sadly absent.
With a whiff of change in the New Zealand education system, in our unsure new pandemic world, now is the perfect time to refocus on what matters most in our schools, and that, in my view, is all about people.
Dave
PS1 An unexpected upside of this week's drama has been that I now know more Star Wars jokes and wise saying than I had any idea existed.
PS2 There are a lot of comedians in the world of social media, but after the 10th person messaged their version of, "I know who took your droid and I've mailed you their description", I started to get a little bit jaded.
PS3 I usually knock social media for being a force for bad, but in this case it was brilliant. Power to the people!