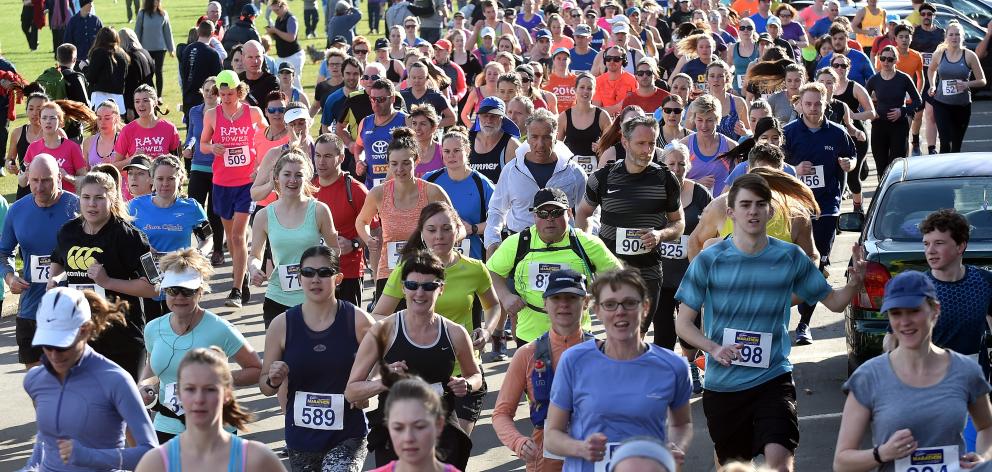 At the end of January I found myself in front of a big group of eager teachers at our annual beginning of the year teacher only day. Before the group, on a big white board, I sketched out a ten week timeline. The Term ahead.
And then I asked, "how many of you have run a half marathon before?" Three or four of them put their hands up, but most looked at me in confusion, and a few disbelievingly. Was I about to spring on them all that we were going to spend the term preparing for the ultimate team building event – the staff half marathon? I'm sure that some of them flinched at the thought.
And so I painted them this story.
In September, I ran the Dunedin half marathon. Just over 21 kms of placing one foot in front of another. I told my team that the beginning of the race was just like week one and two of any given term. The runners, like teachers, were all excited; they were prepared, they had their individual goals in mind, and the enthusiasm, energy and passion of everyone about to start was infectious. This was just like my teachers on this teacher only day. They too were prepared, enthusiastic, and full of energy.
Weeks 1 through to 4 are like the first ten or so kilometres of a run. Just like in the run, our teachers are talkative, friendly, encouraging, helpful and inclusive. The energy continues to flow. Just like the race, the school is a great place to be a part of.
At some point in the run everything goes quiet. The runners begin to hit their wall; they begin to notice the pains creeping through their legs and in their shoulders. They worry about the twinging feeling in their calf and wonder if that tightness is the resurfacing of an old injury. They stop talking as proactively to the runners around them. They get nippy and impatient with people running through or shoving. It's variable but it's likely to be around the 15km-17km mark. In term time this is around Week 7 of a ten week term.
Teachers too, stop talking as proactively as in the first few weeks. Pressure builds up, accumulates and looks to be never ending. Energy begins to trail away and with it a lot of patience. Like the runners they find it harder to make positive connections with others. They look inward instead of outward, and for many they wonder how they'll make it. For some this might begin in Week 6, for others later on. But just like the runners they all meet a mental wall. If things are going to get angsty in the school, then it's likely to be a three week period from Week 7 through to 9.
At about the 20km mark, runners tend to move out of their fug. It's about this time they realise that the end is in sight and it's only a km or so away. Mentally they reason that this is between 6-8 minutes away. They realise that although things might be painful, it's certainly do-able and will soon be over.
Week 10 of a term is just like that. Teachers head into the week tired and spent, but during that last week of term you can feel the mood lifting. Teachers know it's only 5 days to work through. They can see the end in sight.
I mapped out the key times on the whiteboard and then we talked about what it was like to be teaching in a school during the back end of any given term. My teachers all told similar tales. They were tired, they were more anxious, all sorts of pressures were compounding and made school, their work place, uncomfortable.
I told them that they were all half marathon runners as a result!
And because we were refreshed and feeling energetic, having just come back from holidays, talking about feelings and energies about the "term-wall" could be discussed in a positive light. We started discussing key strategies that we could all use when we reached our term walls so that we finished the "race" with head held high 🙂
So during those more difficult weeks we agreed to refocus on connecting, being active (physically and mentally), taking notice and most importantly giving. Instead of being insular, inactive, failing to notice, and always take, take, taking.
Heads nodded, faces smiled. And then we ate lunch and icecream, and someone said; "mmm, the proof will be in the pudding!"
I'll report back in Week 8 of the term to tell you how things are going.
Steve